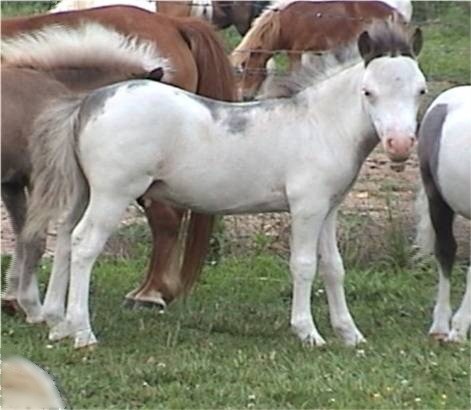 sailor at 6 weeks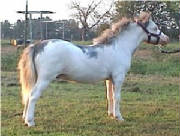 Sailor 3 1/2 months
Loud frame/sabino colt. born 5/14/08. we haven't decided on a name yet. 22 1/2" tall with a 7 3/4" canon bone. We can't decide if he is black, silver dapple or blue roan. Whatever he is he is stunning. He was a tiny bit cow hocked at birth but is straightening up. Dad is our overo stud Fox Fires Some Like it Hot and dam is Briar Patch Roan Angel. Update 08/23/08. Sailor as we are calling him, has good straight legs both front and rear and looks very good. He is well feed and a bit fat. We are having a terrible time deciding who to keep Sailor or Dancer his half brother. Sailor is ever so sweet and friendly and has loads of color and is correct. 12/26/09. Sailor has been sold and is happily going to a show home. He should be on the show circuit in 2010 THANK YOU Megan.
Solid what looks to me to be Silver dapple Filly born 5/18/08. 19" tall and with a 6 1/2" canon bone, this one is ultra refined and small. Very nice neck and small head with tiny muzzle. where the silver dapple comes in with a cremello sire and a b/w dam I am not sure ! This one is like a porcelain doll. She will be offered for sale when weaned. Sire is Zephyr Woods Russians Ghostly Image, a 32 1/2" cremello, dam is Von J's Mystical Petals of Calibar a b/w 31 1/4" mare we just bought. This filly was sold to a breeder locally who unfortuantely did not pay for her completely and then resold her. we aren't sure where she is and we never got her papers since she was not paid for...live and learn
Solid Bay Roan colt born 5/17/08. measured 18 1/2" tall with a 6" canon bone at birth. This little guy is MR personality. Started out liking people and is a pocket pet. He has straight legs and nice portions for such a tiny guy. Mom is Spragues Billie Joyce, Sire is Vintage Farms O Dynamite. Update. We called this colt Billie the Kid, his new owner planned on gelding him and keeping him for a pet. He is sucha sweet guy and we wish him a happy life in his home in Ohio.
Most of our foals will be for sale this year. So if any of them interest you, contact me. I have foals coming from April thru October, so check back often.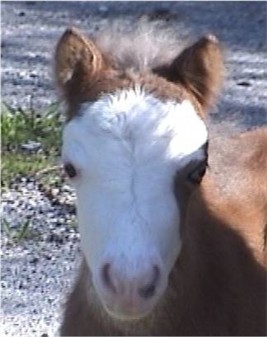 Silver Bay Overo stud colt. Born 04/12/08, eligible for AMHA and AMHR. He was 21 3/4" tall with a 7 1/4" canon bone at birth. He has two blue eyes and a very unusual face, with 3 stockings and one solid color leg, he appears to be a true frame overo. He has a large splash of white on his left side, and a small belly spot on his left side and one small spot on his neck .
His sire is Peppy our 31 3/4" silver bay overo and dam is Westwinds Cheri Wynne 31 1/4. I am estimating him to mature between 31 and 32" tall. UPDATE 08/23/08. Dancer has that something special look and we are really strongly considering keeping him instead of Sailor. He has such a long neck and clean throat latch and nice topline. 12/26/09. Dancer was sold to a show home and had been to a couple of shows, when tragically he was lost to colic. We are so sad to have lost the beautiful colt.
++++++++++++++++++++++++++++++++++++++++++
photo taken 04/19/08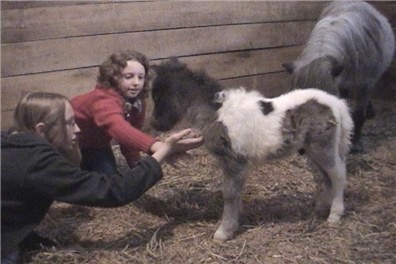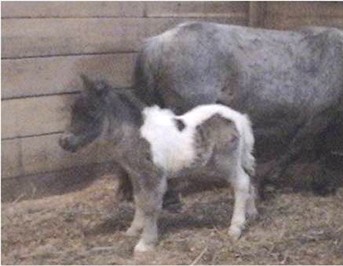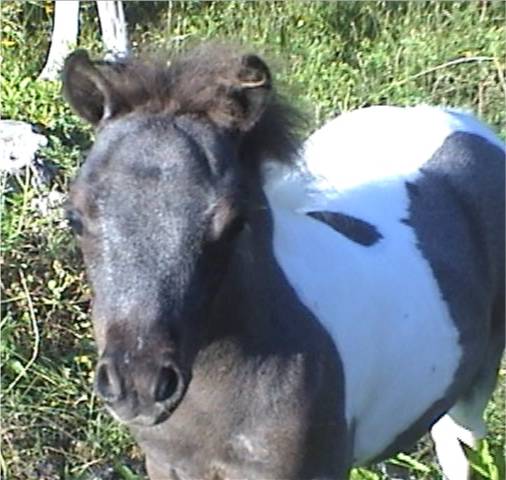 Blue roan & white tobiano stud colt. Born 04/17/08. He will be AMHA and once we put his sire in AMHR will be AMHR eligible also. He was 21" tall with a 7 1/4" canon when we measured him the day he was born. I am estimating him to mature between 30 to 31" tall mature. His sire is our 27 3/4" b/w stud Vintage Farms O Dynamite and Dam is our oldest mare World Of Miniatures Camille 33".
This might be Camille's last foal we are so pleased with what she has done. This is a very promising colt. Nice neck, good topline, cute head, straight legs. He has one blue eye and nearly 50/50 coloring. 12/26/09 Blu was sold to a family in Minnesota as a future stud. we know he will do well.
+++++++++++++++++++++++++++++++++++++++++++
Buckskin tovero colt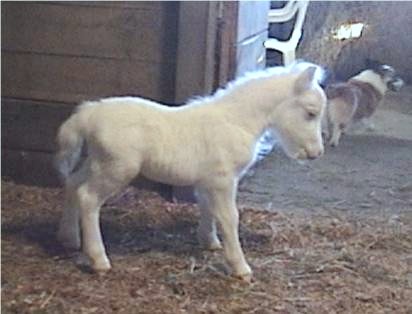 Spirits 1st foal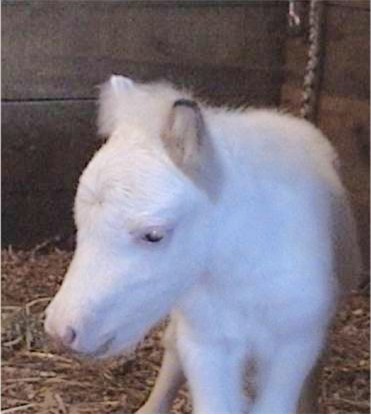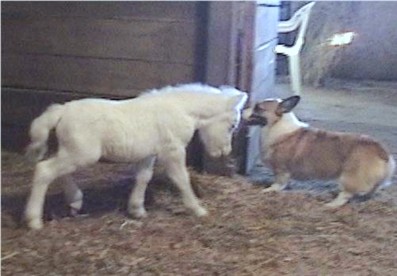 Buckskin Tovero colt born 4/22/08. This little guy is nearly solid white with the only color being his left ear is buckskin and he has a few back hairs in his tail! But talk about personality, this little guy is loaded. He obviously will be a great color producer with overo, tobiano, creme genes he can produce just about anything when hes mature. He was 20" tall with 7" canon at birth so he is going to be very small. Mom is our Buckskin Mare Spirit who is 30 1/2" tall and Dad is our Overo Peppy who is 32" tall. Cotton went to a wonderful home in Kentucky.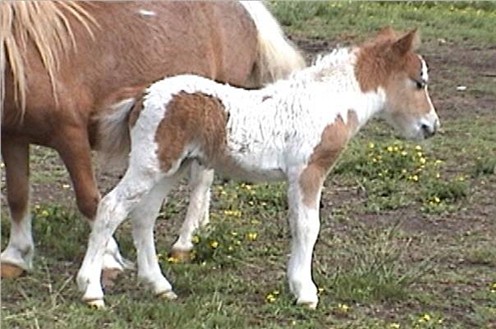 photo at 9 days old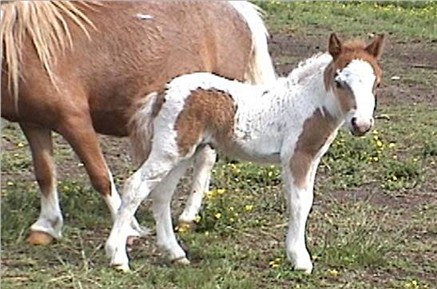 Sorrel & white filly with INK spots ...we think she might be homozygous! born 5/22/08 by Dynamite and dam is Shadows Little Joy. She was 22" tall with a 7 1/2" canon bone. This little girl has a very sweet disposition and had nice straight legs and bite looks to be coming in good. Update, we sold Lena a couple of months ago she is a sweet mare and we know her new owners will surely enjoy her.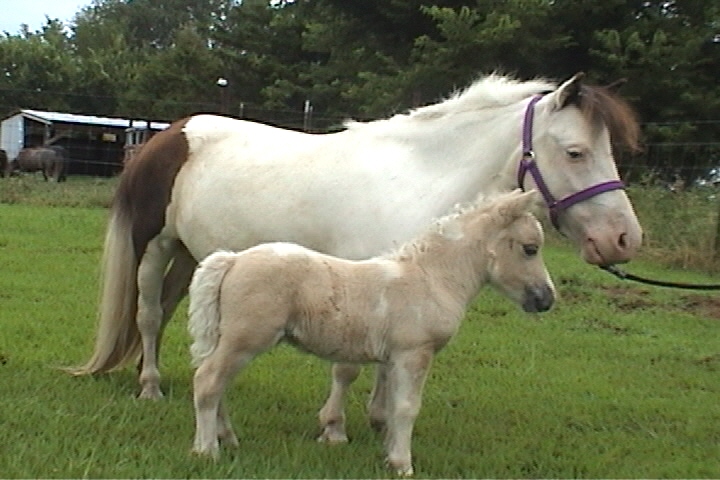 Avalon Farms Apache Gold (goldie) was born 07/28/08 a tiny palomino pinto. 18 1/2" with a 6 1/4 canon. She is so adorable! Dad is Dynamite and mom is Babe We sold Goldie and her dam to a nice breeder in Canada, they have retained goldie, but have renamed her Apache Princess since they already had a Goldie.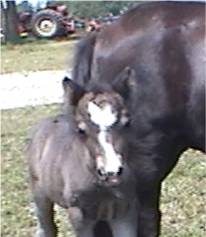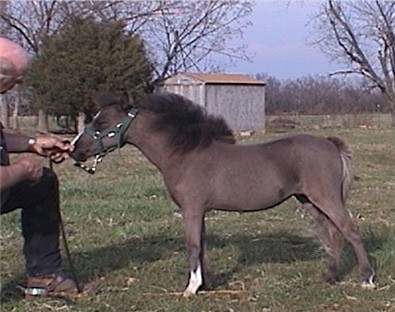 Delilah at 7 1/2 months...OH what a pretty girl!
Another Filly I was beginning to think I wasn't going to get another Peppy daughter!. Delilah was born 08/01/08 and is 20 1/4" tall with a 7" canon bone. She is very leggy like all of Peppy's foals are and appears will be black. She has the strip on her face and two socks with blue eyes. I am betting she carries overo. Mom is Delta, we think is dominant black. Update, we sold Delilah to a couple in Kansas.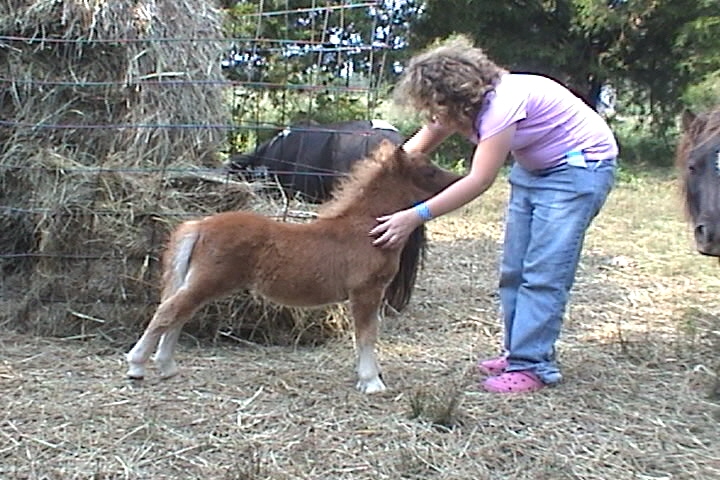 This is Chester he was born 08/12/08 and is out of Abby our b/w mare and Peppy our former overo stud. He is tiny, probably maturing around 28 to 29". As you can see he is very friendly and outgoing. We have sold him as a pet to some friends. He probably will not ever be registered as I just don't see that he will ever be used for breeding since he is sold to a pet home.