Introducing "A Windy Surprise of Avalon Farm"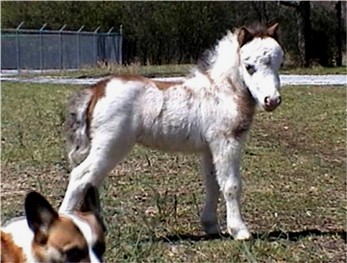 2 weeks old
frame overo filly
2 weeks old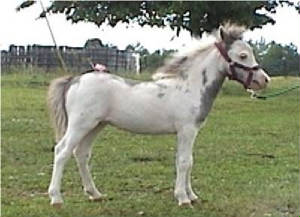 2 months old just clipped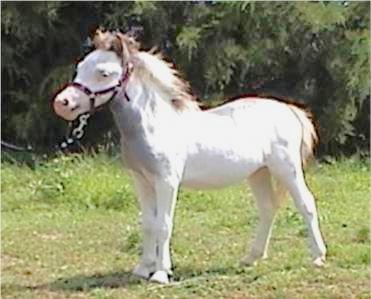 photo at 3 1/2 months old
First to arrive this year is a little loud bay frame filly! She was born March 30, 2007 and was 3 weeks early. we were out of town and our good friend Cindi was horse sitting for us! This darling little girl was 21 1/2" tall at birth and had a 7 1/4" canon bone. we expect her to mature around 32". She is out of our blue roan mare Briar Patches Eagles Roan Angel (aka Pearl). Her sire is Peppy (Foxfires Some like it Hot). This fillys sire and grandsire and greatgrandsire are all overos. Plus her dam is a daughter of a frame overo Circle S Double Eagle who is a son of Bar L's Bright Beginnings. So she had overo, overo, overo. genes...lol She will be AMHR registered. Windy has gone to a show home. GOOD LUCK Debbie!
Introducing "C me Fly of Avalon Farms" (tenative name)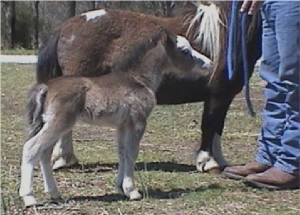 10 days old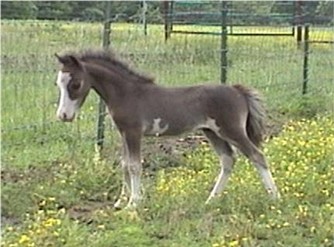 at 7 weeks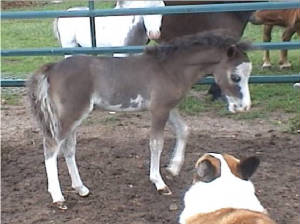 chasing the dog at 7 wks old
2nd foal of the year. He is tested Sabino overo colt without LWO. He has 4 white legs and a spot on his right side rib cage(photos with flash washed out his coloring) he also has a spot on his left stifle and I think he looks to have a belly splash. He is so very refined and elegant I would love to see if he could show. He will also be AMHR registered and we will sell him when weaned. *(see below) SOLD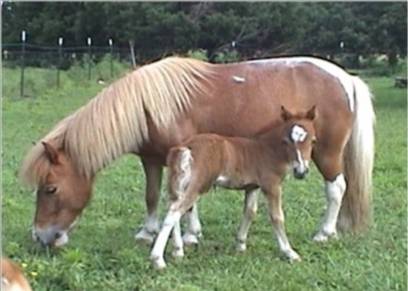 Born June 5, 2007 sorrel & white tobiano filly...not a loud one but tobiano. See the tiny stripe on her hip! But what a sweetheart! this filly was born thinking people were just wonderful! She is also very refined and small we measure her at 20" and with a 7" canon bone. She will be AMHA only Update 12/26/09 see her on our mares page, Avalon Farms Grace and Joy, she is coming 3 in the spring and we are planning on breeding her to our tiny b/w stud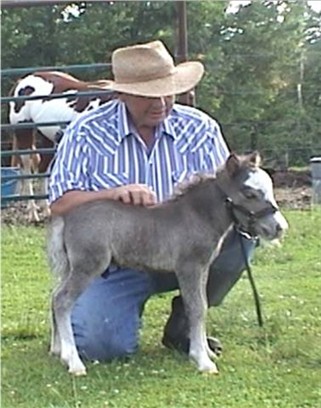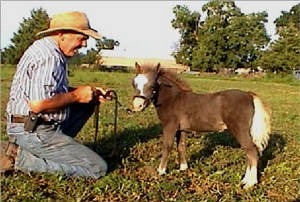 5 weeks old
Born June 14, 2007 a cute correct stud colt blaze 4 sock and looks like he is a month old already! He is going to be a nice size. He was 20" tall with a 7 1/4" canon. This guy is 4 square, solid and good baby. This colt was sold to an Amish family as a future herd stallion. But I know he will learn to pull a cart when he is old enough as well.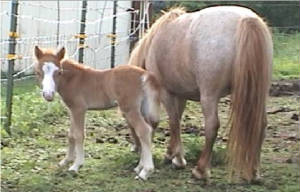 This lovely sorrel/red roan colt. was born 6/16/07 he has two blue eyes a wide blaze and one hind sock maybe two. He is either a red roan or sorrel and I am just not positive yet. He meausres 21" and has a 7 1/4" canon which by my calculation puts him at 31 to 32 " at maturnity. I think he will carry either Frame overo or Sabino overo or both genetics. He is a nice leggy colt and shows a lot of refinement and has a great attitude. I have sent for his AMHR papers, I can send in a late stallion report to file for his AMHA papers, with the low price stud colts are selling for I don't plan on doing it unless the buyer requests it. He is a very pretty colt and is very under priced he has a long neck and pretty overall conformation that can make a show horse or nice stud.. This colt was sold to a couple as a pet for their two boys, he has a big job ahead of him..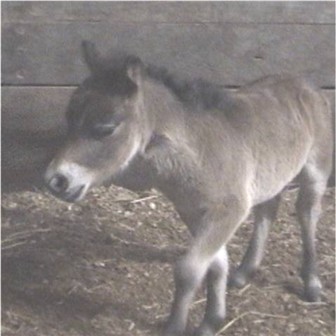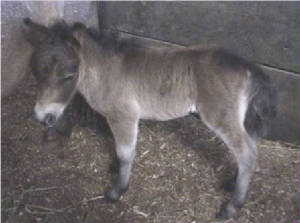 This lovely filly isn't mine. but is the first foal from our 27 3/4 b/w stud Dynamite. She is absolutely adorable. Very tiny with a sweet inquisitive disposition and a doll baby head and tiny muzzle. She has excellent refinement and shows quality that could make her a show stopper. I am thrilled for her owner Sandi in Canada and envious to...wish I hadn't sold the mare now!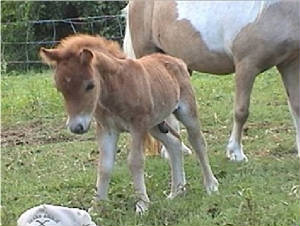 Our last foal of the season Finally arrived 7/17/07. He is 20 1/4" tall and has a 7 1/4" canon. A sorrel stud colt out of Fanny (Windy woods Showtime Fantasy) and by Dynamite (Vintage Farms O Dynamite). He looks to mature about 30 1/2 to 31" and has his Dads cute face and big expressive eyes. He was sold with this dam to a local breeder as a birthday present to her daughter.