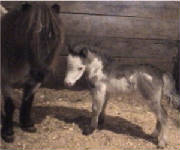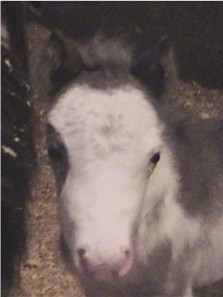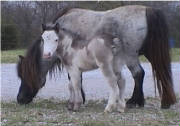 A Patch of Blue at age 2 1/2 months
Our 2nd foal of the year is adorable frame overo filly who appears to be a silver dapple. She was born April 9, 2009 and was 22 " tall and has an 8" canon. She is one of the prettiest marked frame overos I have seen. We are tickled to death with her and although I don't care for silver dapple I doubt this little girl will ever leave us. Her mom is Briar Patch Roan Angel in AMHR but is Avalon Farms Roan Angel in AMHA. Dad is Foxfires Some Like it Hot the loud frame we recently sold. This the the 3rd in a row of frame overos from this combination. update 1/1/10 We have kept Patches for our program and plan on showing her next spring...wish her luck!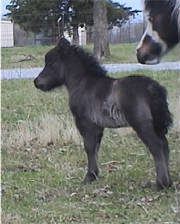 black colt at 2 weeks
Third foal is a solid black colt born 4/11/09 he is 20 1/2" tall with a 7" canon bone. His mom is Funny Face (aka Vivians Angel Face) Dad is Vintage Farms O Dynamite. This little guy is going to be black black black. and he interestingly enough has very deep blue eyes right now but I suspect they will turn brown. He is very refined and has his fathers adorable head. This little guy I have jokingly called Sam Spade so one of my name choices for him is Avalon Farms Sam Spade. The other is Avalon Farms Johnnie Cash. Update 1/1/10, Sam went home with a nice family last summer, he was sold with application, but I see they didn't bother to register him.
Shakes colt at 1 week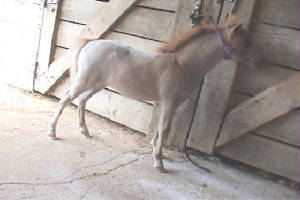 Tough Guys Wear Pink Too at age 2 months
Foal # 4 is red roan stud colt born 04/12/09 20" tall with a 6 1/4" canon bone. Dam is Spragues Billi Joyce and sire is Vintage farms O Dynamite. He is only a couple of hours old we will get photos soon. He is definitely a red roan and he has white hind socks and front sock and coronet. He is a very nice colt with a lot of refinement, smooth level topline and good neck and shoulder placement. I am interested to watch him develop, because I think he might make a nice small show colt. This little guy is looking more and more like a show prospect to me with a nice neck and pretty topline straight legs...what a eye catcher. Update 1/1/10, Toughy went to his new home in St Louis, where I think he has a lot of training planned by his new owners, who knows what he might do.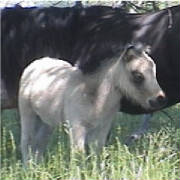 Born 04/26/09 buckskin stud colt. Dam is Bear Farms Phantom of Pandoras and sire is Bear Farms Kansas CIty Here I come. He is a small colt with a beautiful head like his mom. I failed to measure him, but he is small near the same size as the black colt so I am guessing between 18 1/2 and 19" He and his mom are both for sale. I am considering the following names for him. Avalon Farms Pioneer Spirit or Avalon Farms Mighty MO. updated 1/1/10, Spirit is now owned by my Stepdaughter and her girls, he has a good home and will be her future herd stallion.